Hudson's Malamutes - Frequently Asked Questions

42. Why Hudson's DOES NOT stud or lease dogs

Many breeders have contacted me over the years to inquire about studding to my sires or leasing of my bitches. Many of these people get angry because I will not deal with outside breeders and stud my sires or lease my bitches. There are many reasons as to why but below you will find one many horrifying experiences I have had as a breeder. And to why I do not deal with outside studding or leasing of any of my dogs any longer.

In September 2001 Rebecca Simmons contacted me about studding a 100 lb AKC registered bitch that she owned named Simmons Chantel Sky - WP89381702. She wanted to breed Chantel to my 100 lb AKC sire Hudson's White Takoma - WP94662708.

We discussed the breeding between the two and decided price and agreed on a stud fee. Rebecca brought Chantel to my home in Sept. 2001. Chantel was bred over three days and Rebecca came and picked her up after my dog Hudson's White Takoma studded her for these three days.

Here is where this story gets interesting. I then contacted Rebecca in Oct of 2002 to inquire on another litter that Chantel had mothered. I then went to Rebecca's home in TN and purchased three Alaskan Malamute Puppies from her. While I was there I saw the sire and bitch of the puppies. I also saw another gray/white long coated fluffy beautiful girl approximately 100 lbs tethered to a tree. And also a mixed breed female apx. 60 lbs tethered to another tree near by. I proceeded to ask Rebecca what dogs they were. She told me that both of the dogs tethered to the tree were out of the breeding with my sire. I looked at her very strangely and asked her how a mixed breed dog could be sired by one of my dogs and how one of the females could be so big and beautiful and the other look like a totally different breed. She was agitated and informed me that since I made her take Chantel home before she was fully out of heat that she had slipped out of her house and went to the neighbors home where they had a German shepherd. Rebecca insinuated to me she knew that this girl could be a mixed breed dog, and that it was my fault that this had happened anyways. She told me the other female was fixed and she planned to fix this mixed breed looking female. I was visibly very upset as I was just told that "my sire" on AKC papers supposedly made this mixed breed looking dog.

I felt since Rebecca told me that she was going to fix this mixed breed looking dog that the problem was solved. Well in 2003 a dog called Juno popped up in a Kennel in KY. Come to find out this dog was named Juno of Moonridge - WR05069703. And this was the same mixed breed looking dog that was tethered to the tree in TN that I had seen months earlier. Of coarse I was upset, Final story is this dog that I suspect is not truly an offspring of Hudson's White Takoma. I contacted AKC and they said without DNA testing they couldn't do anything about this matter. Since then this dog Juno was spayed and is no longer breeding.

Many breeders all over the U.S. will tell you they have Hudson's bloodline. Juno of Moonridge is the dog that many are referring to when they claim to have Hudson's Bloodlines. This is not true. Explained in my - A True Hudson's Dog page of how this dog is not a True Hudson's dog. Juno of Moonridge has produced many litters of puppies with six of her offspring that are actively breeding in kennels all over the U.S. And many claiming the biggest, non-German shepherd looking, and pure M'Loot dogs from this female. Below is a picture of Juno of Moonridge and you can make the assumptions yourself of whether she is or is not a pure Alaskan Malamute. At the least she is not of breeding quality.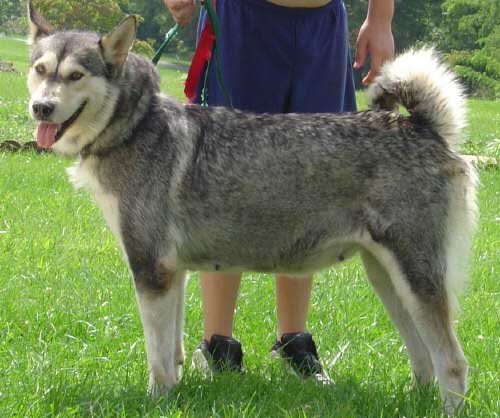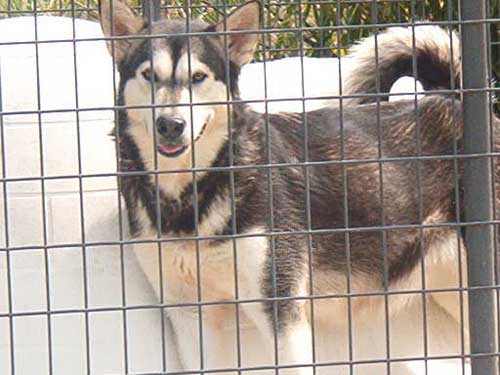 Below you will find several of Juno of Moonridge's offspring, many still actively in breeding programs all over the U.S. And many of these kennels claiming Hudson's bloodline in their dogs. If you have any of these names in your pedigree you do not have Hudson's bloodline. Or "true M'loot" dogs - as stated on my NO such thing as Pure M'Loots page. And with a dam weighing apx 60 lbs you don't have true giant lines as explained in my I want the largest pup in the litter. page.

Aleu Ice Knight - WS15399405 - DOB - 10/19/2005

Carolina's Gray Minx - WS12027103 - DOB 1/5/2005

Carolina's Junebug - WS12027102 - DOB - 1/5/2005

Cash's Sir Maximus - WS15399407 - DOB - 10/19/2005

Ice Krystal Cha Cha - WS06039102 - DOB-10/26/2003

Jenna Smith - WS08976704 - DOB 5/27/2004

Moonridge Krystal Dawn - WS12027107 DOB - 1/5/2005

Moonridge Chance of Fate - WS08976702 -DOB - 5/27/2004

Nakita Tells of Glory - WS12027101 - DOB - 1/5/2005

Scheerbaum's Luca - WS15399402 - 10/19/2005

Because of this problem of proving parentage AKC has started DNA testing of all Frequently Used Sires. And does routine inspections of kennel operations, and sometimes this includes puppies and parents on the premises being DNA tested on the spot to prove proper parentage. This is because in the past there are many breeders that have registered wrong parents as their sires or dams. So unsuspecting buyers purchase breeding dogs and don't even know who the proper parents are to their dogs. This has improved in many kennels and breeders and with the AKC now doing inspections has deterred some breeders from putting wrong parentage. It also gives AKC the ability to correct this, and put the proper parentage of these dogs. Please see the AKC http://www.akc.org/dna/dna_faqs.cfm site for further DNA information.

All Hudson's breeding dogs are located in Tn. And there are no longer Hudson's dogs outside of spayed/neutered contracted pets. Hudson's no longer studs their sires or leases their bitches. So if you are looking for one of the Biggest, Best and Healthiest Alaskan Malamutes in the U.S. you will need to check out Puppies Currently Available - Click Here!!