Hudson's Malamutes - Frequently Asked Questions

5. What is a puppy mill? Why are they bad?

A puppy mill is a place that breeds dogs for profit only, without a care to health, temperament or behaviour. Puppy mill puppies are almost always poor in health, and can often be unstable of temperament. It is not unheard of for puppies to be sold as purebred dogs, but are, in reality, mixed breeds that resemble the purebred.

Owners who buy from pet stores or puppy mills, even backyard breeders often face serious illnesses requiring extensive veterinary care shortly after bringing the dog home. In some cases the dog has long-term and ongoing problems.

The less money you expend to create something, the more profit you have upon sale. Millers resort to many cost cutting measures such as: low quality food, poor health care, no health screenings for hereditary problems, lack of medical care except what may be mandated by state law

The more product you create for sale and at the least cost. So, if you can produce more goods for sale at a lower cost, you have more profit. Millers breed as many dogs as possible. A female may be bred as soon as she comes into season and then every season after that until her litter size drops and she is no longer profitable (then she may go to auction or be destroyed) or bred until she dies.

No socialization of puppies

dogs kept in cramped living space to cut down on expenses




Below are photos of a dog I rescued from a backyard breeder/puppy mill operation:
She was so poorly kept that she was ripping out her own fur. She was eating the mats off her body (they were in her stool). Because she was kept in direct sunlight her color was sun bleached.

Cimi as she was when I rescued her: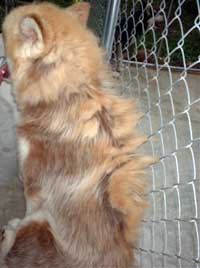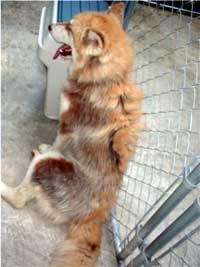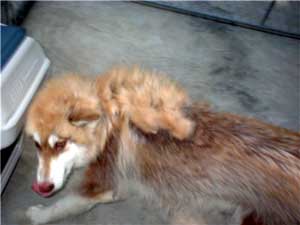 Cimi restored to health: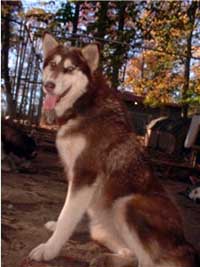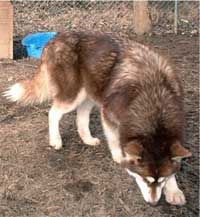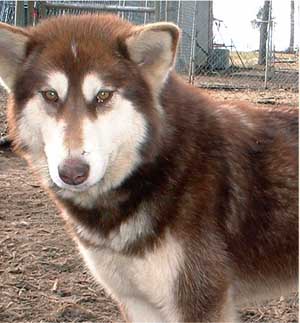 She was fence aggressive - meaning she would fight at any dog through the fence, until I worked with her. Then she started to socialize with the girls, here at my kennel. The final picture of her, below, is socializing with the girls here at Hudson's. This is major progress for her.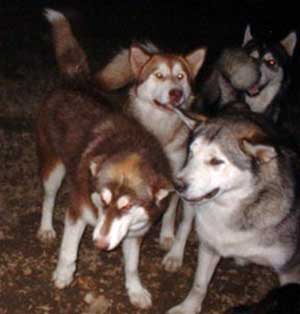 This is a long, hard road for Cimi - just to reach where she should've been in the beginning - had she been treated and kept properly, with the respect a living being deserves.