Home
Giant Alaskan Malamute
Puppies Available
Giant Alaskan Malamute
Past Puppies
MalAMail
Malamute Postcards







Hudson's Malamutes - Frequently Asked Questions

6. What is a backyard breeder? Why are they bad?
Motive for breeding: "fun", "good for kids", or make money. Doesn't screen buyers and seldom refuses to sell.
Breeds family pet to any convenient pet of same breed just to have purebred puppies. Has no concern for genetics, bloodlines, or breed improvement.
Though pet may be well-loved, it wasn't x-rayed for hip dysplasia nor checked for other inheritable problems.
Offers no health guarantees beyond proof of shots. Unqualified to give help if problems develop.
Seller has little knowledge of breed history or AKC breed standard. may claim this doesn't matter for "just pets."
Pups raised in makeshift accommodations indicating lack of long-term investment in breeding.
Even when selling "just pets". may produce AKC papers or "championship pedigree" as proof of quality. Yet seller doesn't increase own knowledge through participation in national or local breed club.
May be unwilling to show entire litter or to introduce dam of litter. Can't/won't critique puppies or puppies' ancestors.
Prices at low end of local range since has to move pups rapidly.
No concern for individual pup's and breed's future. Doesn't use AKC limited registration or ask for spay/neuter contract to guard against breeding of substandard pets. if you can't keep the pup, tells you to take it to the dog pound or sell it.
Up to 10 million healthy animals are killed in U.S. pounds and shelters every year.
Euthanasia is the single largest cause of death for dogs in the U.S.
Most of these animals are young and healthy; in fact, it is estimated that a majority is less than one year of age.
The number one biggest contributor to the problem is the backyard breeder, not the puppy mills.
Backyard breeders will swear all of their pups went to a good home. They believe this but it's not true. Some may have been lucky enough to go to a good home but more than half of them will end up dead, in a shelter, alone, on a cold table with a needle sticking out of their leg. Some of those good homes will get tired of the dog and they will just give it away to anyone who is willing to take it. Some of your beloved dog's children will end up living alone in a backyard, barking all night, cold and neglected until the owner gets complaints and then that pups will be dead. Some will be starved and beaten. Some will be bred until they die from it. Some will end up in rescue and have to be shown that not all humans are bad. The rescue group will train it, and feed it the proper food so it can heal. They will take the fleas off of it and get rid of the worms. They will give it the shots it should have had but no one remembered to give it. They will do these things because the backyard breeder didn't do it and wouldn't take the dog back when it was 2 years old and full of problems. The rescue group will spay or neuter that pup before they find it a new home so that they will never have to rescue one of it's pups and to be sure it will never end up in the hands of another backyard breeder looking to make profit from puppies.
Backyard breeders are not responsible pet owners. They think they love the dogs but it's not really true because they don't really want to be bothered with doing all that it takes to breed ethically. They love feeling important when they say, "I breed such-and-such breed". But breeding pet dogs isn't something to be proud of. It's a shame on our society. It's the reason for the killing that goes on in shelters. Why do you want to be part of that?
From NBRAN Breeding Education

Below are photos of a dog I rescued from a backyard breeder/puppy mill operation:
She was so poorly kept that she was ripping out her own fur. She was eating the mats off her body (they were in her stool). Because she was kept in direct sunlight her color was sun bleached.

Cimi as she was when I rescued her: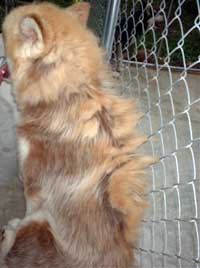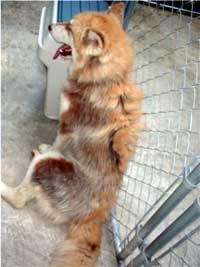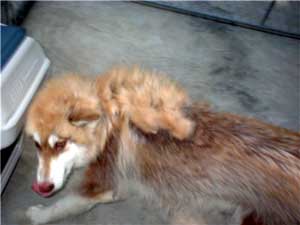 Cimi restored to health: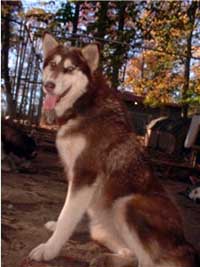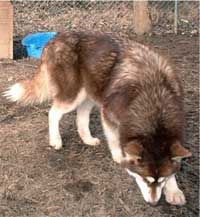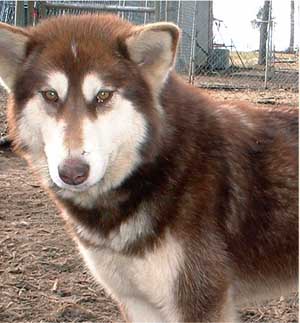 She was fence aggressive - meaning she would fight at any dog through the fence, until I worked with her. Then she started to socialize with the girls, here at my kennel. The final picture of her, below, is socializing with the girls here at Hudson's. This is major progress for her.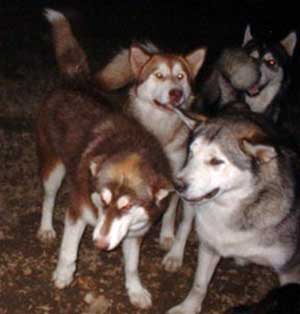 This is a long, hard road for Cimi - just to reach where she should've been in the beginning - had she been treated and kept properly, with the respect a living being deserves.
Psalm 115:1
Not to us, O Lord, but to you goes all the glory for your unfailing love and faithfulness.
© 2004-2021 Jolene Houghtaling
Hudsons Huskies and Malamutes
P.O. Box 241
Baxter, TN 38544
(931) 432-0955
jhoughtaling@charter.net